January 28, 2010
As part of a new series of interviews from Michael Wolsey s Visibility 9-11, Host John Bursill talks to 911Truth.org Executive Director, Janice Matthews and Richard Gage, AIA, founder of Architects & Engineers for 9/11 Truth. John
John Bursill is a licensed aircraft maintenance engineer, with over 20 years of experience working on large commercial jets in Sydney. Bursill has an extensive knowledge of the 9/11 attacks, and is one of the most prominent 9/11 truth activists and speakers in Australia today. John was the principal organiser of the The Hard Evidence Tour Down Under and has organised several other events, including the Sydney Truth Now Conference 2008 and Delusion 9/11. He has also toured across Australia with his talk Why 9/11 Truth?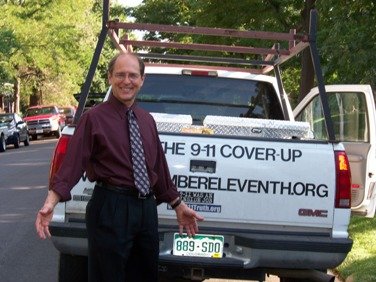 Visibilty 9-11 Welcomes Richard Gage AIA – 1,000 Member Milestone
January 26, 2010
This interview was inspired by the recent news that Architects and Engineers for 9/11 Truth had reached the milestone of 1,000 qualified and licensed members. Gage, who is an experienced San Francisco Architect, member of the American Institute of Architects and the founder of Architects and Engineers for 9/11 Truth, describes some of the group s recent successes worldwide and talks about his recent tour of Australia, New Zealand and Japan.
We hear about the upcoming Press Conference planned next month to announce the 1,000 AE911truth.org members to the world, which includes approximately 40 Structural Engineers. Richard also mentions some celebrations that are planned for the AE911Truth members. Please see the site for more details www.AE911Truth.org
John Bursill interviews Richard Gage
Visibility 9-11 Welcomes Janice Matthews, 911truth.org
January 18, 2010
In the first part of this wide ranging interview Janice talks about "The Hard Evidence Tour Down Under" in Australia and New Zealand in which she participated. She also touches on conversations she had with other speakers in Sydney about what s working for 9/11 Truth and what 911Truth.org means to them now and what role it should play in the future.
See www.TheHardEvidence.com for more on the tour, and also Janice s brief report at www.911truth.org.
visibility911_bursill_mathews.mp3
Subscribe to Visibility 9-11 to receive notice of all future interviews, or check Visibility911.com to listen to the many previous excellent interviews, where you ll also find blogs from Michael Wolsey, Erik Larson and Scott Ford.