Notice: Use of undefined constant DISCLAIMER - assumed 'DISCLAIMER' in /home1/improba1/public_html/911truth/includes/fair_social.php on line 3

Notice: Use of undefined constant FAIR_USE - assumed 'FAIR_USE' in /home1/improba1/public_html/911truth/includes/fair_social.php on line 10


Wednesday, February 24 2010 - Resources and Materials

Pre-production Pricing - 9/11 Fact Sheets, Deception Dollars - ORDER DEADLINE 2/26!


February 23, 2010

Carol Brouillet has once again graciously taken on the arduous task of organizing the production and printing of updated outreach materials for us, in the form of Deception Dollars, and fact sheets. Please note that the deadline for 9/11 Fact Sheets only is THIS FRIDAY, 2/26/10, expected to ship 3/8/10. If you are interested in stocking up on outreach materials at very, very low pre-order pricing, please read on.
(follow link to see back, also)
These fact sheets have now been updated to include information about nanothermite along with a few other changes. Pre-order pricing: 3.5 cents/flyer (paper flyers; not cardstock) plus shipping; minimum order 1,000 sheets ($35.00 plus shipping). These are full-color double-sided sheets, approx. 5x7" size. ORDER DEADLINE IS FRIDAY FEBRUARY 26, 2010 Please call Janice at 785.597.5729 to place an order via credit card, Paypal account or to set up a payment by check/money order. (Please leave a message if I'm not available and I will call you back ASAP.) Carol expects printing to be finished and the orders to ship on approximately March 8th, in plenty of time for you to receive them before the March 20th anti-war rallies, or April 11th actions.

ALSO TO BECOME AVAILABLE SOON:

Carol, with artist Blaine Machan, are now putting finishing touches on the latest Deception Dollar and a new Perception Dollar and are requesting feedback on these before they go to print. Follow the links to Carol's site for more information on the new Perception Dollars, including the full list of sites referenced on them. You may also order either of these items pre-publication prices now, at $60/2000, including shipping if within the US, by calling Janice at 785.597.5729. To offer feedback on these, please email Carol (not Janice) at cbrouillet [at] igc.org.

From Carol: Please let us know whether you prefer the Deception Dollars with color - red graffiti and the yellow biohazard symbol on the Trillion Dollar note - or the ones without graffiti and yellow that resemble regular dollars more (to help us know how many to order when we do). Also, remember - these are drafts. Corrections are still being made and the final bills will be slightly different.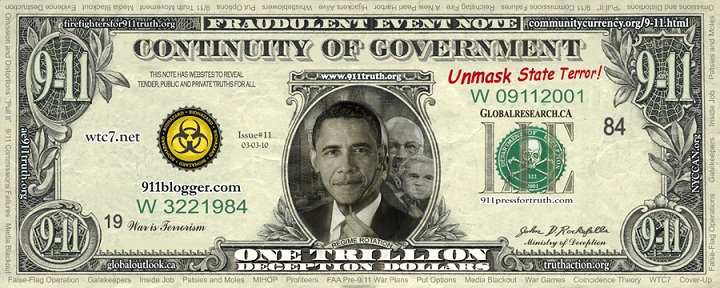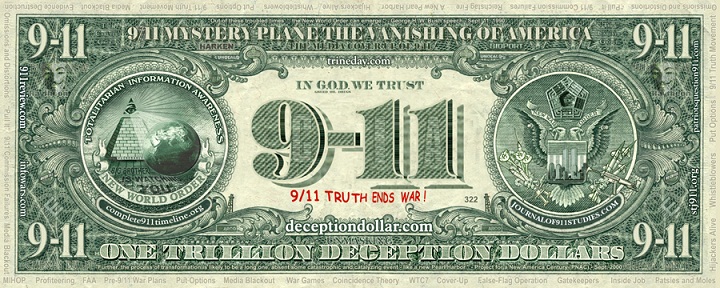 Disclaimer
The views expressed in this article are the sole responsibility of the author, who is solely responsible for its content, and do not necessarily reflect those of 911Truth.org. 911Truth.org will not be responsible or liable for any inaccurate or incorrect statements contained in this article.